Topre Group Basic Philosophy and Action Guidelines
Creating the future of our world.
We create every kind of products from a sheet of metal.
We pursue strength, lightweight, finesse and precision.
Since our establishment in 1935, Topre has been expanding the possibility of metal press forming technology.
Our innovations and developments assume a critical role,
When the automobile industry creates safe and environmentally-friendly products,
And when refrigerated vehicles secure food safety.
Topre's unique technologies and creativity can be found,
In air-conditioning equipment necessary for cleaner atmosphere,
And in electronic equipment indispensable for the future of IT society.
Creation for new lifestyle and business environment.
Creation for the future of society.
Topre products, creating the future of our world.
Basic Principles
The Topre Group's mission is to create products and services by maximizing its technical expertise in order to contribute positively to the societies in which it conducts business.
The Group will not only pursue excellence in its economic performance, but also carry out business activities as a group of international companies with the highest ethical standards, which will promote a Topre Group image that will be acknowledged and respected.
This philosophy will guide The Topre Groups domestic and international business actions, while also continuously seeking to enhance the Group's long term prosperity and making positive contributions to the societies in which it is engaged.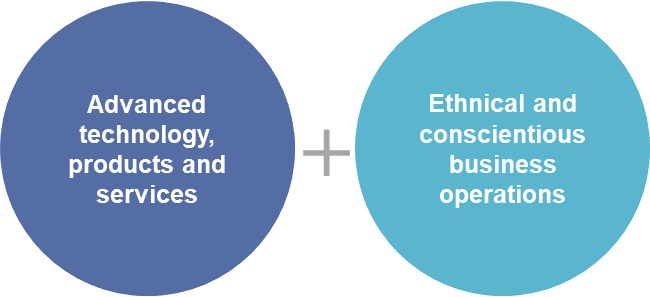 Code of Conduct
1.Compliance with Laws, Company Rules, and the Moral Code.
We will comply with relevant legislation and regulations when conducting our business. Our company rules have been established as a means of fulfilling our business activities with fairness and transparency. We will also continue to conduct our business in an ethical manner. We have in place an internal reporting system (hotline) to prevent and correct any act that breaches or is suspected of breaching the above.
The management are responsible for taking the initiative in complying with the Code of Conduct to establish a highly ethical corporate culture and for maintaining an internal system to prevent situations that breach the Code of Conduct.
2.Contribution to Society
We will contribute to a safe, convenient, and comfortable society through our products and services. We respect the culture and values of the countries and communities in which our company is based, and actively involve ourselves in local activities and development.
3.Fair and Equal Relationships
We will continue to establish ethical relationships with our business partners.
We will maintain honest business practices with our partners, subcontractors, suppliers, etc. We will have no relationship whatsoever with anti-social forces, and systematically and firmly respond to any unreasonable demands.
We will also disclose our corporate activities and operating information in a timely and proper manner so that our investors can make informed investment decisions.
In addition, we will not engage in any fraudulent, unfair or unjust act in the context of our relationship with politics and administration.
4.Respect for Human Rights and Diversity
We will continue to respect all human rights and will never permit any form of discrimination concerning race, beliefs, gender/sexuality, nationality, physical differences, or language or other various forms of harassment.
5.Environmental Protection and Health and Safety
We will continue to promote the "3Rs" (Reduce, Reuse, Recycle) and energy conservation in conducting our business as an environment-friendly corporation.
Also, we ensure the safety and health of our staff members, we have minimized on-the-job accidents and injuries, and we are committed to continuous improvement of working conditions.
6.Company Asset Protection
We will conduct our business ethically and prohibit any private use or misuse of company assets.
Also, we ensure that company-owned information or assets will neither be leaked without following specified procedures nor be used for unauthorized and improper purposes.
Company assets must be acquired, used, or released in a predefined manner and with full authorization. We will neither act for the benefit of a third party nor allow any staff member to act for the benefit of himself/herself or a third party.